The Sequenziatore $42.
General Purpose LED Sequencer Kit
Bring a greater level of sophistication to your special projects with this straightforward and easy to use electronic sequencer circuit. The Sequenziatore Circuit Board opens and closes switches in a pattern allowing you to: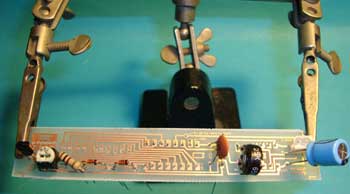 The Sequenziatore Circuit Board with some of its parts in place
Vary the speed of LED blinking
Vary LED brightness over a useful range
Select the number of connections to sequence—from one to ten!
Support from one to four LEDs on each connection
The Sequenziatore Circuit Board can:
Stand alone and make a simple set of LEDs blink in sequence.
Act as a "driving" board for any other LED effects board that you can wire into—such as fedoratron's 4x8 32‑Light Chaser circuit board.
The heart of this board has enough capacity so that each LED LED "channel" can be wired to make several LEDs blink for each sequence "step"—with LEDs wired in series or series/parallel arrays. You can extend and place the LEDs almost anywhere that's needed for your project or make use of fiber optics attached to each LED and have a myriad of pin-point light effects.
The Sequenziatore Circuit Board is compact, 4" x .6" by about .75" thick, depending on how you assemble the components.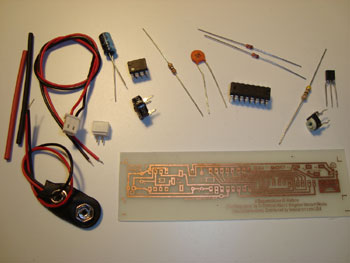 The Sequenziatore Circuit Board Kit comes with
a custom printed circuit board
a 9Volt "snap" power connection for convenience, but the circuit can accept 4.5Volts to 12Volts and be "hard wired" to a battery power supply
all the electronic components you'll need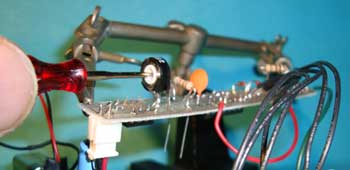 Easily adjust blinking speed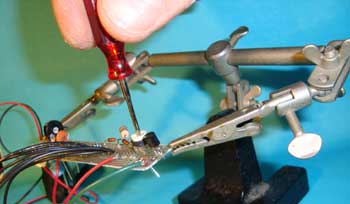 Easily adjust LED brightness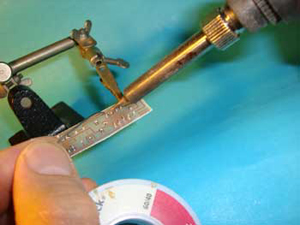 What You Should Know
Some experience at soldering electronics will be helpful—but this kit can be done by a modeler who is just learning to solder. We recommend a fine‑point soldering iron and small diameter solder.
The Sequenziatore custom printed circuit board will need to be drilled to accept the circuit components. You will need a 1/32" drill bit—or more than one, in case one breaks
The Sequenziatore Circuit Board Kit comes with everything you need to wire and power the board but it does not come with any LEDs, power switches, specific battery packs, extra wire for extending the power supply or LEDs and mounting hardware. The uses that this circuit can be put to and places into which it can be fit are too many to provide for and those decisions are best left to you.
$42.